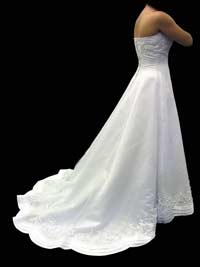 We went as a family to a wedding last weekend – beautiful, small, intimate, English wedding in the country. Marquee on the lawn, lovely gardens with ponds and streams, and – coincidentally – the Red Arrows and other planes flying overhead as part of the nearby Air Tattoo. (Very appropriate, as many of the guests seemed to be airforce, or civil pilots).
The bride had gone to a lot of trouble to arrange entertainment for the 12 children at the wedding, to keep them entertained while the adults ate – t-shirt painting, glass-painting, games, DVDs and so on.
She had also arranged for a special party tea for the children, and party bags with presents for them. Crisps, sandwiches, cheese cubes, crudites … and she had been very careful to organise a wide range of cakes and biscuits, which were all gluten free, so that my coeliac daughter could eat freely from the table. (We'd brought our own gluten free bread for the sandwiches).
I was touched that she'd gone to so much effort on her own special day.
Which made it even more shocking that later in the evening, she whispered to me that one of the other guests had decided to whisk her two children away to McDonalds, saying "my children don't do wheat-free".
What? What was she thinking?
I can't decide which feeling is uppermost – I am horrified by how rude this is, and astonished that someone could object so strongly to food that was gluten-free. It wasn't even as if the children were going to go hungry if they didn't eat any cake …
I just hope my coeliac daughter didn't hear this woman spurn the food so lovingly provided for her.
| | | |
| --- | --- | --- |
| | | I've written a book summarising what we've learnt over 20 years of dealing with the gluten free diet, and it might be just what you're looking for. It packs the lessons we've learned into what I hope is a helpful and straightforward guidebook. It's available on Amazon, as a paperback or for your Kindle… |