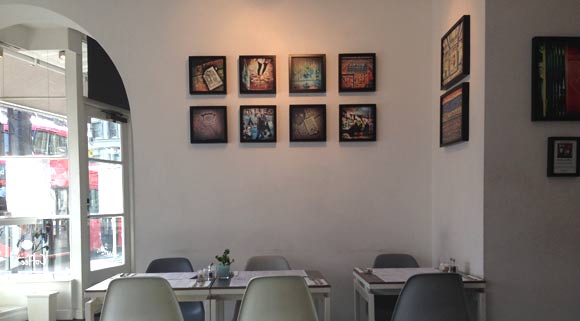 I visited Niche (London's first Coeliac UK accredited 100% gluten free restaurant) for the second time last week — and again, I was too greedy to think about taking pictures for you…
I've been twice so far, and will definitely visit again; ideally, so I can try their evening menu. So far I've tried a few items from their daytime menu:
eggs florentine (part of their brunch menu) which were perfectly cooked
beer-battered onion rings – these were crispy and delicious
parmesan and cheddar doughnuts – these were fab, with a crispy coating, and good chutney to 'cut' and contrast with, the cheese
apple and blackberry crumble with cinnamon icecream – good pastry
It is very filling; after eating the doughnuts, I didn't have room for a main course, and had to move straight on to the crumble! Note that I don't eat meat, so I haven't tried any of their meaty dishes.
The food I have tried is fab and the service is good too; both times I've met helpful and attentive waiting staff, who are happy to talk about the menu and reassure visitors. And the art on the walls is worth looking at too – it's a showcase for London-based mobile photographers.
It's only about 10 minutes from Euston station (take the tube to Angel, and then it's a short walk), so it is surprisingly easy to get to for those of us who aren't based in, or familiar with, London.
I am definitely going to have to take Coeliac Daughter there, or maybe buy a gift voucher so she can visit with a friend. She would love that she could eat anything she chooses from the menu.
If you're looking for a gluten free restaurant in London, and you haven't been to Niche yet—perhaps because, like me, you don't live in London—I can wholeheartedly recommend it for a gluten free meal (there are also some vegan options if you need to be dairy free as well). Let me know what you think!
| | | |
| --- | --- | --- |
| | | I've written a book summarising what we've learnt over 20 years of dealing with the gluten free diet, and it might be just what you're looking for. It packs the lessons we've learned into what I hope is a helpful and straightforward guidebook. It's available on Amazon, as a paperback or for your Kindle… |