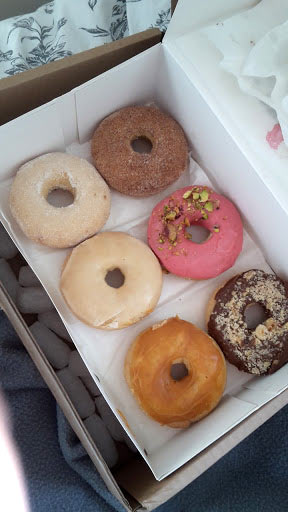 Do you miss doughnuts?
I've been meaning to post an update on the gluten free doughnuts from Borough22 that I mentioned a while ago. You may remember that I'd tasted these as part of judging for the Free From Foods Awards earlier this year, and been impressed by the cinnamon doughnuts.
I ordered a box of 6 (one each of sugared, cinnamon, vanilla glazed, raspberry & pistachio, raspberry, and nutella) as a surprise for Coeliac Daughter to try on a visit home back in February.
Unfortunately, there was a problem at the delivery depot, and they didn't arrive as planned, but Ryan at Borough22 arranged for a delivery of doughnuts to her university address instead (excellent customer service) – so I didn't get to see her enjoying the doughnuts, but I did get a steady stream of updates and photos via social media.
I had told her there was a parcel coming, but not what was in it…
Coeliac daughter said via social updates (over a period of time, and probably with a mouth full of doughnut!):
They're so cool!
Sooo yummy!
Yummiest thing in a long time..
So good.
Her favourites were the cinnamon one and the sugared one, so another time we might order a mixed box of those, rather than of all 6 flavours – or maybe some mini doughnuts.
And 6 doughnuts is a lot for one person to get through. If they'd been delivered to home, of course, I'd have been able to help out! I'm not sure what the solution to this is—other than sharing with friends—as the postage costs would be excessive for a couple of doughnuts. But I was delighted that she enjoyed them so much.
These doughnuts are: gluten free, dairy free, egg free, soya free and vegan. You can order them online, or buy them in a few places in London (oh, those lucky Londoners).
And, if you are interested to read another view on these doughnuts (and one that made my eyes prickle), go and read the review at 7 Years to Diagnosis.
***
Update: Ryan tells me that the doughnuts freeze well, and defrost within an hour, so there's no need for greedily eating all the doughnuts immediately. Good to know!
***
| | | |
| --- | --- | --- |
| | | I've written a book summarising what we've learnt over 20 years of dealing with the gluten free diet, and it might be just what you're looking for. It packs the lessons we've learned into what I hope is a helpful and straightforward guidebook. It's available on Amazon, as a paperback or for your Kindle… |