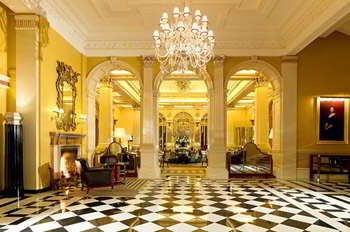 Yesterday I talked about the afternoon tea party organised by Genius.
Today I want to tell you about the remarkable contribution to this tea party made by Claridge's: the French pastries.
Claridge's expert staff had created some very sophisticated cakes for this tea party:
beautiful raspberry and rosewater macaroons: girlie pink, packed with raspberries and cream, and decorated with a rose-petal and a single dew-drop of sugar syrup. So lovely…
dainty fruit tartlets with a pastry case: a variety of fruits and cream in an excellent gluten free pastry case (I didn't ask whether they'd used a Genius recipe for the pastry – I wish I'd asked!)
and tiny chocolate Ondulay cakes. I don't know what an Ondulay cake is, in technical terms, but who cares? This was an outrageously rich, dense mouthful of chocolate cake.
Delectable. Amazing. And gluten free. So it can be done…
Based on our experience yesterday, Claridge's offer a wonderful afternoon tea: with champagne or without, it's going to be an experience to savour. So if you ever want to treat yourself to afternoon tea at a prestigious London hotel (or even treat someone else – but make sure you go as well) this is the one to go for.
Naturally, this will have to be as a very special treat – Claridge's isn't cheap. But it will be worth it. Just be sure to tell them in advance that you're gluten free.
And, to seal my (unrequited) love affair with Claridge's: I begged for one of the leftover gluten free pastries to take home for my coeliac daughter, who was, of course, at school in Cheshire, eating a baked potato for her school dinner, as she does every day, not in central London drinking champagne (the things I have to do for her!)
The lovely Claridge's staff provided a dozen.
That's the way to win an admirer for life.
| | | |
| --- | --- | --- |
| | | I've written a book summarising what we've learnt over 20 years of dealing with the gluten free diet, and it might be just what you're looking for. It packs the lessons we've learned into what I hope is a helpful and straightforward guidebook. It's available on Amazon, as a paperback or for your Kindle… |