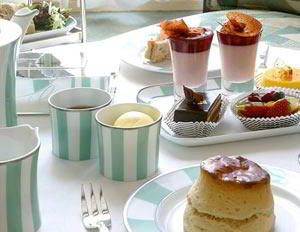 How hard would you find it to have afternoon tea at Claridges in the company of other gluten free bloggers, journalists and companies supporting coeliacs?
(For any of you not from the UK: Claridges is an extremely upmarket smart hotel in Mayfair).
I'm guessing: not hard at all! I certainly wasn't going to decline the invitation (see right) from Genius to meet them there for afternoon tea – I was only too pleased to be invited, so I set off from the frozen north yesterday to join them in London.
And what a glamorous event it was… This was partly a first birthday party for Genius, so we were greeted with a glass of champagne and set loose to discuss matters gluten free.
Time to chat…
Naturally, I met Lucinda Bruce-Gardyne, whose brainchild Genius is; like me, and others there, she has children with allergies; but we aren't all professionally trained chefs impelled to make a difference by devising a ground-breaking new bread. Yay, Lucinda!
Coeliac UK were well represented by Anne Maloney (Corporate Partnerships Officer) and Norma McGough (Head of Diet and Health), and with them I discussed CD and teenagers attitudes to food and risk; the cost differential of gluten free products over normal products, and the difficulty this adds if you're a low-income family on benefits; and the influence of family medical history (other coeliacs in the family, diabetes, psoriasis etc) over environmental impact (breastfeeding, for example, is recommended). If you're newly diagnosed – or even if you're not! – Coeliac UK are an excellent resource.
I met Liz and John from Coeliac London, who identify and review restaurants in London that cater well for those eating gluten free. They'd both brought iPads, to the envy of the rest of us Brits there, to show us their website and Facebook pages (do search for them on Facebook) – and they're working on an application for finding suitable restaurants. We discussed the difficulties of quality control over restaurant reviews, and the success they're having with their Facebook pages.
Liz had a quick look at this blog on her iPad and instantly recognised FlorisFoods goodies from yesterday's post. FlorisFoods catered for her birthday party recently, together with Sweet Cheeks (new to me, but I'm so checking it out based on Liz' pictures). Gluten free is a small world!
I was delighted to sit next to Caz, the Gluten Free Foodie during afternoon tea. If you're a regular reader, you'll remember I mentioned her blog a while back; she writes about fine dining gluten free in London – do check her blog out. She told us how she'd urged her local pub to get in some gluten free beers, and how astonished the publican was by the response: people flocked to the pub from miles around, and drank the gluten free beers dry in 3 days.
Caz is clearly quite a campaigner, as she'd also tried to persuade Pizza Express that it wouldn't be too difficult to keep some frozen gluten free pizza bases in stock, with a dedicated pan to cook them in (to avoid contamination) – no luck yet, but I'd be happy to join with her in a campaign…
There were many more fascinating people with great stories to tell, from journalists, corporates, agencies and bloggers. But it has to be said that the highlight of the afternoon was the food.
Afternoon tea: a very English tradition
Genius bread was used to make the daintiest of English sandwiches (yes, including cucumber and excluding crusts), and there were also elegantly presented gluten free scones with Devonshire clotted cream and strawberry preserve, made by Genius. These were excellent. Our table agreed that we all loved a decent scone, and these were fabulous.
We urged Lucinda to put them into production, but this isn't nearly as easy as you'd think, if – like me – you don't have experience in the large-scale production of food. And there are the issues of delivering the food fresh; scones, of course, being best within hours of baking. So: no promises from Genius on the scones yet, but I'll be keeping my fingers crossed.
Or – here's a thought – sell the flour mix with a recipe, so we can make our own…
Genius, in case you haven't come across it yet, is a gluten free fresh bread available in all 5 major supermarkets across England, in white and brown. And it is very good indeed. We were lucky enough to taste an early version of Genius rolls, which are very good – and very large! Sadly, the bread isn't on the prescribables list yet, but if you can find it in your local supermarket, do try it.
This, of course, is Coeliac Awareness week here in the UK, and the message this week is Free For Tea?
Afternoon tea at Claridges: what a way both to celebrate the first birthday of a new product, and to raise awareness of coeliac disease.
Happy Birthday, Genius!
| | | |
| --- | --- | --- |
| | | I've written a book summarising what we've learnt over 20 years of dealing with the gluten free diet, and it might be just what you're looking for. It packs the lessons we've learned into what I hope is a helpful and straightforward guidebook. It's available on Amazon, as a paperback or for your Kindle… |