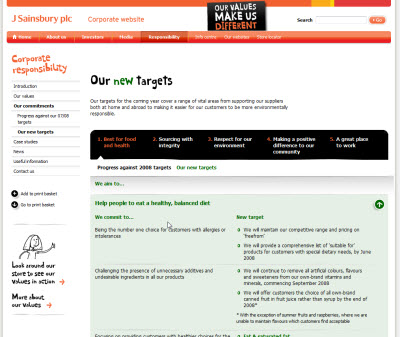 Delighted to read on Sainsbury's corporate site today that they say:
We commit to… Being the number one choice for customers with allergies or intolerances
and that their new targets are:
We will maintain our competitive range and pricing on 'freefrom'
We will provide a comprehensive list of 'suitable for' products for customers with special dietary needs, by June 2008
I believe them – I'm already switching back to Sainsbury's for our gluten free shopping just because they provide the widest range of free-from products all the major supermarkets. And, as I've said before, supply the needs of one family member with a special diet, and you get the custom of the whole family.
How about it, Tesco, Waitrose, Asda, Aldi, Morrison's, Somerfield etc? Planning to compete?
| | | |
| --- | --- | --- |
| | | I've written a book summarising what we've learnt over 20 years of dealing with the gluten free diet, and it might be just what you're looking for. It packs the lessons we've learned into what I hope is a helpful and straightforward guidebook. It's available on Amazon, as a paperback or for your Kindle… |