Goodness Direct recently sent us various products to try out and review for you. I'll cover some of the other things for you another time; today I thought I'd discuss biscuits.
Goodness Direct kindly sent two kinds of biscuits: Orgran Outback Animals (vanilla cookies) and Lazy Day Foods Scottish Shortbread.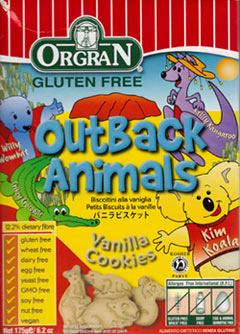 I've seen the Outback biscuits in supermarkets, where I'm sure I've seen multipacks: small portion packs inside a bigger pack to buy. This was a single, bigger pack, but like so many of the gluten free products, multipacks seem to me to be the best plan, especially if your coeliac is young, so that the food stays fresh for longer. I know that several layers of packaging isn't particularly 'green', but nor is discarding food because it's gone off.
The biscuits themselves are shaped like various Australian animals – wombats, kangaroos, crocodiles, and koalas – and are nut free, yeast free, soy free, wheat free, egg free and dairy free, as well as being gluten free. For those of us with many years of biscuit-eating experience, they were a little plain and dry, with an unusual after-taste. However, my non-gluten-free son, and our dairy-free toddler taster (who is, I suspect, the target market) loved them, and the whole pack disappeared very quickly. These biscuits are also available in chocolate flavour – and Goodness Direct sell the multipacks as well as these bigger packets.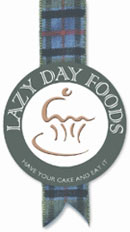 The other biscuits, the Lazy Day shortbread, have a much more adult taste. They're also plain and dry, but that is how shortbread should be, and these have the texture of a shortbread too. Naturally, being shortbread, they are egg free, but these are also dairy free.
They're not quite the same as homemade would be (because traditionally shortbread uses butter), but they are an excellent gluten free version, and I wouldn't hesitate to offer them to visitors, whether the visitors need to be gluten free or not. And, as we all know, that isn't true of all gluten free biscuits!
I suspect that the manufacturers have got this exactly right, aiming one biscuit at the dairy-free toddler and the other at a rather older age-group…
Our verdict? I can recommend the shortbread, but suggest that you leave the animal cookies for young, dairy-free children.
| | | |
| --- | --- | --- |
| | | I've written a book summarising what we've learnt over 20 years of dealing with the gluten free diet, and it might be just what you're looking for. It packs the lessons we've learned into what I hope is a helpful and straightforward guidebook. It's available on Amazon, as a paperback or for your Kindle… |