I know its still chilly outside – I'm wearing extra layers, like a good Green should – but icecream is always a popular pudding at our house, so I thought I'd just mention our favourites.
You may know that you can now buy gluten free icecream cones, ready for stuffing with your favourite icecream – but did you know you can get ready-filled cornets?
Just like 'real' ones, there are two basic varieties of icecream cone (that I've found, anyway): the simple icecream cone, and the waffle cone. Both are produced by Barkat. The simple cone at least used to be packaged under the Glutano name, but since both Glutano and Barkat are brands from the same company, they've clearly decided to rationalise. You can buy direct from Barkat, or from one of the growing number of gluten free shops, such as Goodness Direct.
The waffle versions are far and away our favourite, but they are significantly more expensive. Both kinds are free from gluten, wheat, milk and eggs, but the simple version is apparently also free of lactose, yeast, nut and is GM-free.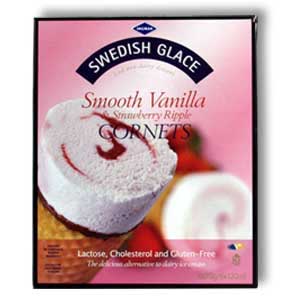 We were going to the trouble of melting chocolate and coating the insides of the cones with it to make a home-made version of a Cornetto until we discovered – ta-dah! – the Swedish Glace non-Dairy Strawberry and Vanilla Cornet (also available from Goodness Direct). It is an icecream cone, lined with chocolate flavour coating, and then stuffed with vanilla icecream with a whirl of strawberry sauce. This is a wonderful product – it is just great to be able to give my coeliac daughter something that looks (and is) as good as the 'normal' stuff.
You may remember that I gave up dairy products for a while – the Swedish Glace icecream is a wonderful version of dairy-free icecream, and comes in tubs in a variety of flavours. I now prefer it to the usual high-fat dairy versions – and when we have the waffle cones, my daughter chooses to fill them with Swedish Glace icecream from the tub.
Our Recommendation: Eat This!
| | | |
| --- | --- | --- |
| | | I've written a book summarising what we've learnt over 20 years of dealing with the gluten free diet, and it might be just what you're looking for. It packs the lessons we've learned into what I hope is a helpful and straightforward guidebook. It's available on Amazon, as a paperback or for your Kindle… |