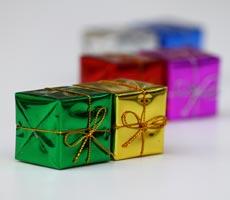 Wondering what to offer a coeliac as a gift this year? Christmas is traditionally a gluten-heavy time, at least here in the UK, with Christmas cake, Christmas pudding, mince pies and lots of sweets and chocolate, as well as sausages, stuffing and gravy, all of which have to be checked for gluten.
It does rather take the fun and glamour away if you have to ask all the time 'is this OK for me to eat?' and perhaps the best present of all is being given something to eat or drink that you know is safe.
Here are some suggestions for presents that might work well for coeliacs – some big and some small. Let me know what suggestions you'd add to the list!
In no particular order:
1. Hampers
I've noticed that there are an increasing number of gluten free hampers available. Here's one from Marks and Spencer, which includes a Christmas pudding and Christmas cake. The Pamper Hamper that Goodness Direct are offering contains lots of sweets and chocolate – or, and perhaps better, you can pick and mix a gluten free hamper from Goodness Direct too*.
2. Recipe Books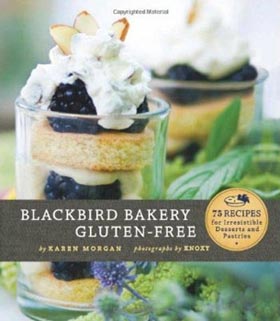 How about a decent cookbook? Although it isn't too hard to cook gluten free, sometimes it can be a bit overwhelming to start with, particularly if you've been used to baking. I'd particularly like to receive this one: Blackbird Bakery
*, because it just looks so beautiful, but there are lots of options available.

3. Eating Out Guide
Or, if your friend isn't a cook, how about a guide to eating out gluten free? Triumph Dining* offer a guide for the United States which covers over 6,500 restaurants and 40 chain menus for chain restaurants across the country, including 2,800 restaurants with gluten free menus or gluten free speciality items. I'm not sure if there is an equivalent here in the UK; does anyone know of one?
4. Starter Kit
One of the most frustrating things about starting to live gluten free is that so many of the things in your cupboards turn out to be unsuitable. Everything from spices to baking powder and ketchup might have lurking gluten. How about providing a starter kit of this kind of item for your newly diagnosed friend, of whatever you think they're likely to use, so that they can discard (or pass on) the unsuitable items and restock their kitchen with cooking basics that won't make them poorly.
5. Breadmaker
Although gluten free bread available to buy is improving all the time, there's nothing quite like baking your own. If you felt like splashing out, then a breadmaker with a gluten free programme would be great. One with two baking buckets and paddles (what are those things called?) would be even better, so that one could be dedicated for gluten free baking. Panasonic offer breadmakers with gluten free programmes
* on Amazon. (This one has an average rating of 5 stars with 94 reviews, so it must be good!)
6. Cookery lessons
Another expensive gift, but one that might be very welcome, would be a gluten free cookery lesson. Lucy's of Ambleside are perhaps the best-known for this, but there are others: here's one in Derbyshire at Coghlan's Cookery School.

7. Make it Yourself
At the other end of the scale, how about making a box of gluten free Christmas treats yourself? Cookies, cake, fudge… Just be absolutely sure that all your ingredients are safe: remember to check the baking powder too.

8. Baking Kit
For a child, how about a baking kit of their own, together with a safe recipe for chocolate chip cookies? Or a kit for making a gluten free nativity scene? Always popular… If you're looking for a decent gluten free chocolate chip cookie recipe, I use this one:
125g gluten free flour mix (I like Wellfoods, but Dove's Farm – from the supermarket – would work, as would any prescription flour mix such as Juvela or Glutafin)
1/2 teaspoon gluten free bicarbonate of soda
55g brown sugar
55g vanilla sugar (or white sugar and 1 teaspoon of vanilla extract)
70g butter
1 egg
100g chocolate chips: white, milk or dark, whichever you prefer.
Mix everything except the chocolate chips together until blended and creamy; stir in the chocolate chips. Put spoonfuls of the mix on a greased baking sheet and cook for about 8 minutes at 180C.
9. Chocolate
And everyone loves chocolate! Many chocolatiers now make sure that they have some gluten free options available. We love Green and Blacks… Just look at this range of suggested Christmas chocolate gifts. Just remember to check that any components of a pack are gluten free: all the Green and Black's chocolate is gluten free, but the biscuits and 'gift assortment' are not.
10. That old favourite: a bottle
Alcoholic or not: not everything in a bottle is gluten free. Do check: I have an evergrowing list of gluten free drink options here (thanks to all those who contribute to this list). If you were thinking of something particularly Christmassy, how about a sachet of peach puree and a bottle of sparkling wine, to make a Bellini for Christmas morning? They might even share…
Even if I haven't come up with the perfect present for your gluten free friend, I hope this has sparked some ideas. Do add any of your own suggestions below, as you might just help someone else come up with a great gift. And don't forget to check out last year's 24 Days to a Gluten Free Christmas.
* affiliate link
| | | |
| --- | --- | --- |
| | | I've written a book summarising what we've learnt over 20 years of dealing with the gluten free diet, and it might be just what you're looking for. It packs the lessons we've learned into what I hope is a helpful and straightforward guidebook. It's available on Amazon, as a paperback or for your Kindle… |