Did you happen to be in the Poynton Waitrose on Saturday afternoon? If so, you'll have been astonished at the number of people crowding round the single bay of Free From food. I'm sure the staff were surprised at the run on gluten free products! There were three members of staff just trying to guide people to find it…
We were all there because the local branch of Coeliac UK (Cheshire) had a meeting next door, and once the Sainsbury Try Team had demonstrated how to create a few gluten free dishes, and we'd all had a cup of tea and a chat, a lot of people 'just popped over' to see what Waitrose had in store – especially those of us who don't have a Waitrose near us.
The answer is that there was nothing new or unusual to be found, though this was a small store, so there might be more in a larger one. Some of the products were Antoinette Savill's range, which we know we like. The Waitrose own range of gluten free products looks good; we bought some chocolate muffins. And I was pleased to see that they had a free brochure about living gluten free available – and information available online too.
But I really want to tell you about the Yum! Yum! cupcakes that we bought at the meeting.
We bought a presentation pack of six: double chocolate, vanilla icecream and strawberry flavours. They were just beautiful (check out the pictures) and my daughter was thrilled with them.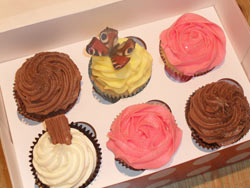 Not cheap, though, despite the discount price offered at the meeting, but if you had a special event, or wanted to surprise a gluten free friend with a pretty gift, these would be great.
Photos taken with a mobile phone before the feasting began…
My suggestion to Yum! Yum! would be to sell these in presentation packs of 2 or 4, as well as 6.
| | | |
| --- | --- | --- |
| | | I've written a book summarising what we've learnt over 20 years of dealing with the gluten free diet, and it might be just what you're looking for. It packs the lessons we've learned into what I hope is a helpful and straightforward guidebook. It's available on Amazon, as a paperback or for your Kindle… |