Baking is getting a lot of media coverage here in the UK at the moment. Not that it ever went away, for many of us!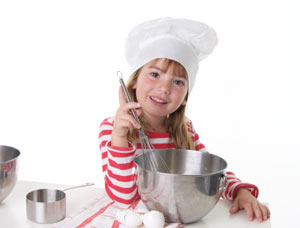 There's been a lot of coverage of the television series The Great British Bake Off, in which amateur bakers were tested on their baking skills.
You can find recipes from the television series on the BBC site – the link I've given you uses the BBC Special Diets filter to find only recipes suitable for gluten free diets, so if you want to see more, use the options on the right hand side to pick and choose what you want to see. Not surprisingly, the recipes tend to be 'normal', with the gluten free recipes being meringue based, including macaroons.
If you are feeling brave, and love to bake, put yourself forward as a gluten free baker for next season! Now that really would be a challenge, but it would be great to see gluten free cooking on mainstream television.
And this week (Oct 17-23 2011) is National Baking Week, sponsored by a number of big companies. It's good to see that their focus this year has been on encouraging baking in schools.
Sadly, no special diets filter or search on this site, so we can't easily find suitable recipes, and some of them don't look like baking recipes at all (salsa?). However, there is a recipe for macaroons.
I do like a macaroon, but still…
Looking for more than meringue? Of course you are!
Apart from our own best-favorite chocolate brownie recipe, have a look at these blogs and websites for more information on gluten free baking:
So let's celebrate National Baking Week without a meringue in sight. I might start with Ginger Lemon Girl's Maple Oat Bread, assuming I can find some gluten free oats these days.
What about you – do you bake?
[/fusion_builder_column][/fusion_builder_row][/fusion_builder_container]
| | | |
| --- | --- | --- |
| | | I've written a book summarising what we've learnt over 20 years of dealing with the gluten free diet, and it might be just what you're looking for. It packs the lessons we've learned into what I hope is a helpful and straightforward guidebook. It's available on Amazon, as a paperback or for your Kindle… |