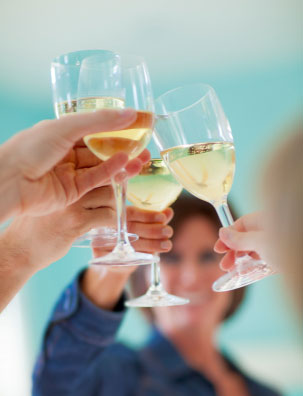 Finally home after an exciting jaunt to London for the Free From Foods Awards ceremony last night. You may remember that I was invited to judge a couple of the Awards categories a while ago, which was fun, so I was looking forward to the awards evening.
It turned out to be even better than I'd expected.
Imagine a room full of people with huge enthusiasm for free from food: tiny specialist companies and big retailers, journalists and bloggers, nutritionists and food development specialists, and add the party elements of delicious (and safe to eat) canapés, gluten free beer and wine… You can imagine the noise level!
It was a bigger event than I'd expected, and more international, too. There were around 150 people there – up from the 40 that the awards started with 5 years ago. It's obviously going from strength to strength, refining and adding to the categories for entrants over time. Next year, for the first time, there'll be a category for children's free from foods for example. Now that's something to look forward to!
And I had a lot of interesting conversations.
Did you know, for example, that Mrs Crimbles (Stiletto Foods) has 40 product lines? I didn't, as all I see are what my local stores will stock.
And as I moved around the room talking to as many different people as I could (I talked to about 35 different people, so I did pretty well) it became clear that there was a consistent theme to the evening.
Companies of all sizes face a problem in getting free from products in front of people like us, the end consumers. No doubt this is a problem for all food producers, but it seems to be a particular problem for this niche market for a number of reasons, some of which are:
Some of the big supermarkets do a great job at developing their own free from brand (I think Sainsbury's are particularly good for gluten free food; the Tesco team I spoke to last night were very proud of their new dairy-free range in the chilled cabinets). Both do a reasonable job at including non-own-brand products. In some other cases – and in smaller stores – there is less interest in this market. In all cases, there is limited shelf – and, particularly, freezer – space made available for free from products, which naturally means a limited range can be stocked. So: limited space can be a problem.
Another could be the perception that this is a small niche. Some of the companies seemed slightly surprised – though delighted! – by the interest of groups other than the intended group in certain products: for instance, vegans interested in dairy-free products. Others said that their products were not necessarily originally intended for the free from market, but that they were naturally free from various allergens. Both these angles I think indicate that these free from foods potentially have a wider market than is typically expected – not so niche after all!
Then, not all small companies want to have their products stocked by big retail, particularly if Big Retail want to white-label their products, or if there is a problem with scaling production to serve the needs of Big Retail. So the reach of these companies won't be boosted by the extensive network of supermarkets or by their marketing power. And if the smaller companies do without the support of the larger retailers, then transport to the end consumer in small quantities can be a problem, particularly if the products are particularly delicate, or heavy.
And another reason is simply that there are very many small companies trying to market new products, and big retailers simply couldn't stock them all, even if they wanted to. So the small companies have to find a marketing budget to bring the goods to our attention direct. Even with the heavy use of social media, and the goodwill of bloggers to review and publicise products, this can be difficult.

Even large, well-known brands diversifying into gluten free may struggle to gain traction in the market. If the gluten free brands are a separate business unit, then they may not have the big money of the mainstream brands within the same company to throw behind marketing new 'niche' brands, even though they do have the benefit of some brand recognition carried over from the mainstream.
That's why evenings such as last night are so significant. Winning an award can bring the small companies' products to the notice of larger retailers, by providing some external recognition of the quality of their products. Even simply entering for an award can spread awareness.
And the publicity associated with the event may bring the brands to the attention of the consumer. After all, if we don't know that the products are available, we can't ask for them, and probably won't even look – we wouldn't know what to look for!
I talked briefly to the Food Resource Company, which works to help manufacturers from overseas to import products into the UK. This seems like a great service, as I can think of several products I've enjoyed elsewhere and wished we could obtain over here. I hope there are equivalent companies promoting our products 'over there'…
So here's the thing. I'd like us all to try the following:
Make an effort to find, try, and buy some of the products that gained recognition this year. And if you liked them, tell a free from friend. Spread the word!
Why not try out some of the online specialist free from supermarkets, such as Drossa, GoodnessDirect or Dietary Needs Direct? These may well stock some of the smaller brands that you might not find in the high-street supermarkets.
And if you can, do try shopping online directly from some of the smaller companies. I know there's a postage cost involved, but if we don't support these companies, there's a risk that they'll fold. And there are many good products being produced by very small companies that deserve to be better known.
Have a look at the list of award winners – I'm sure there'll be something to tempt you in there. I'm certainly going to be doing some shopping…
And finally: congratulations to all those companies, big or small, who won an award!
| | | |
| --- | --- | --- |
| | | I've written a book summarising what we've learnt over 20 years of dealing with the gluten free diet, and it might be just what you're looking for. It packs the lessons we've learned into what I hope is a helpful and straightforward guidebook. It's available on Amazon, as a paperback or for your Kindle… |