So much fun at Sainsbury's last night…
Unusually, Sainsbury's has product development kitchens at headquarters. So a team of bloggers with an interest in cooking allergy-free turned up at the very smart Sainsbury HQ in the middle of London. As I arrived, most people were leaving the offices for the evening, but the front desk were still warm and welcoming – always a great start, when the reception team confirms the brand of the company.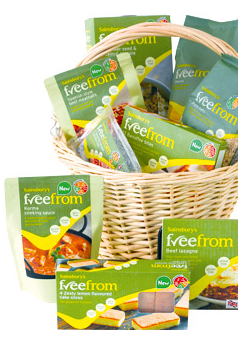 After champagne and canapés (I told you it was fun) we were rapidly pressed into service, cooking our own dinner using recipes crafted by the Sainsbury's Try Team to suit the range of different allergies and intolerances we represented. Gluten free, dairy free, sugar free, nut free, egg free, and soya free at least – did I miss something?
Two teams, one sweet and one savoury …I volunteered to prep the treacle tarts, while others made cupcakes, and dairy-free icecream. In the other kitchen, people made Asian fish cakes, a stir fry, Thai beef salad, prawn Pad Thai and some spiced sweet potato wedges.
Naturally, we were togged up in hairnets and white coats, flapping around as you do in a strange kitchen. Where do they keep their knives? Who's got the scissors? It was a little like those cookery programmes, where frantic members of the public cook for experts, while simultaneously chatting to the presenters and someone in the back is calling out '5 minutes left'… Except that they don't have nearly so much fun as we had. I met a lot of very interesting people, learned a great deal about how Sainsbury's develops and markets its free from products, and still managed to produce the treacle tarts.
And it has to be said that the food was excellent – the Sainsbury experts are clearly very good at innovating to solve the 'missing ingredients' problems, and are obviously lateral thinkers. You know how difficult it is to create a gluten free pastry lattice, because the pastry strips won't 'lift' easily? The Sainsbury solution is to create a reverse-lattice, and create pastry diamonds instead, so that the lattice isn't the pastry but is the pie filling… now why didn't I think of that?
Highlights
Sainsbury are launching more new freefrom products this week, making over 220 in total. Did you know that? No, me either. Will they all be available in your local store? Well, probably not. If you want something in particular in your local store, better ask your local store manager.
One of those products is gluten free oats. Yes! Yes! I think they were a little taken aback by the excitement generated by these gluten free oats… but we were genuinely thrilled
The manufacturers of their free from range aren't big companies, but tend to be little 'mom and pop' organisations, which often produce only one item for Sainsbury's free from range (their best). This is very unusual in food retail.
And there are now regularly updated allergy lists available on the retail website. Some are designed for multiple allergies, but if you've a particularly complex set of allergies/intolerances, you can call customer services and they'll create a personalised list for you.
It was absolutely fascinating to have a little glimpse into the world of food retail. I was deeply impressed by the genuine commitment of the team members to providing good quality gluten free food – it's always inspiring to meet someone with real enthusiasm for their work.
And those treacle tarts? Fab.
Sainsbury's Try Team Recipe: Gluten Free Treacle Tart
200g Doves Farm gluten free plain flour
160g Sainsbury's FreeFrom sunflower spread
1 unwaxed washed lemon
2 slices (about 50g) Sainsbury's FreeFrom white sliced bread
240g golden syrup
2 x 5ml spoonsful cornflour
Grate the lemon zest and combine the zest with the flour. Rub in the sunflower spread. (Note: no water needed). Press the dough together with your fingertips.
Cut a piece of baking parchment (not greaseproof paper) to fit a 22cm enamel plate. Put the pastry on the parchment, shape it into a round, put a piece of cling film on top and roll it out to fit the plate. Put on the plate, parchment side down, and peel off the cling film.
Crumble the bread into crumbs. Squeeze the lemon and combine the juice with the cornflour and add to the breadcrumbs.
(Note: one of the attendees couldn't eat the bread, so we used 50g oats for one treacle tart instead. That's the way I would make a treacle tart, being a Northern lass).
Add the syrup to the crumb or oat mixture, and beat well. Spread the mixture onto the pastry case.
Use any trimmings to make decorations for the top of the tart.
Bake at 200C, 400F, GasMark 6 for about 30 minutes. Enjoy!
| | | |
| --- | --- | --- |
| | | I've written a book summarising what we've learnt over 20 years of dealing with the gluten free diet, and it might be just what you're looking for. It packs the lessons we've learned into what I hope is a helpful and straightforward guidebook. It's available on Amazon, as a paperback or for your Kindle… |