Have you seen this yet?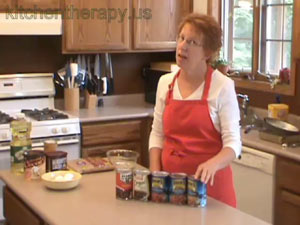 Linda Simon over at Kitchen Therapy is teaching people how to cook different gluten free recipes by video. This is an excellent idea, because it often helps to be shown how to do something something, rather than flapping about incompetently (speaking personally here, obviously!) – and she's very knowledgeable, so provides a lot of interesting information as she cooks and talks.
How does she do that, incidentally? She's cooking, being filmed, and maintaining an intelligent and coherent discourse throughout – and she doesn't make a mess… Not like that in my kitchen, I can tell you! Anyway, her style is very reassuring, as you'd expect since Linda is both a dietician and a personal chef.
There are many other recipes and ideas, and a whole lot of information on her blog that is freely available (I am loving the idea of Foamy Black Bug Juice for Halloween), but there is a charge for these training videos. Each Kitchen Therapy gluten free cooking video series is a bargain at just $14.95. And you can watch them again and again. There's an After School Snacks series up at the moment, which has got 5 gluten free dairy free recipe videos in, and the next will be about a gluten free Thanksgiving. (Quick sum in head: that's only $3 per video, and you can watch them over and over.)
I've been watching the After School Snacks series, which includes making your own hummous (my daughter loves hummous, though I've never tried making it myself – and now I know how easy it is) and Cocoa Beans Brownies (now you just know that's going to go down well). Fab stuff – and, helpfully, she provides the recipes in a downloadable form, together with additional information and links that she's mentioned during the video.
I'm hoping that she'll do a series of videos on the basics of gluten free cooking as well: pastry making, and bread making, perhaps.
Do go over and have a look: there are some good things going on over there at Kitchen Therapy.
| | | |
| --- | --- | --- |
| | | I've written a book summarising what we've learnt over 20 years of dealing with the gluten free diet, and it might be just what you're looking for. It packs the lessons we've learned into what I hope is a helpful and straightforward guidebook. It's available on Amazon, as a paperback or for your Kindle… |